Functional ~ Natural ~ Sustainable
Holiday Shipping Reminder:
We must have your order in hand by these dates:
USPS Ground Advantage Service: order by December 15
Priority Mail® Service: order by December 17
Priority Mail Express® Service: order by December 19
For UPS use the dates above.
Welcome to our studio & shop, where you can find a wonderful selection of handmade items for your home and garden. Everything in our shop is created by the two of us, with a little local help from Mother Nature. Check out the collections below to find something truly unique.
~~~~~~~~~~~~~~~~~~~~~ 

About Us
Paul & Deborah Bahm
We started out as furniture designers & cabinet builders, but wanted to redirect ourselves. In 2005 we moved to the countryside in Ohio and changed our focus.

We were inspired to take our wood turning in bird-loving and culinary directions & started making birdhouses & feeders, rolling pins, garlic mashers, usable bowls, and other turned items.

Our art now consists of wood turnings, with an emphasis on usable birdhouses, kitchen wooden ware & ornaments.  All the wood used is gathered by us from various sources  in Ohio. We use only fallen trees or those that have had to be removed due to storms or decline. We recycle forests into art.

We now have this fun online shop.
We love what we do!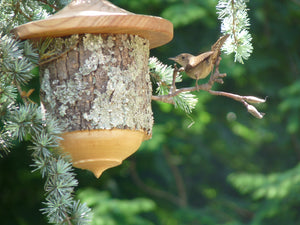 Featured collection
Bird Feeder, Extra-Large Wild Cherry Log Bird Feeder

Regular price

$54.00

Cherry Log Bird Feeder, The Original Natural Log Seed Feeder, Smallest Bird Feeders

Regular price

$29.00

Bird Feeder, Medium Size Hanging Walnut Log Bird Feeder

Regular price

$42.00

Birdhouse, Black Walnut and Black Cherry Usable Acorn Birdhouse

Regular price

$85.00

Bird Feeder, Large Cherry Hanging Large Bird Feeder, Zen Feeder

Regular price

$49.00

Garlic Crusher, Garlic Masher, Black Cherry Muddler, Unique Kitchen Tool

Regular price

$25.00

Bird Feeder, Walnut Log Hanging Bird Feeder, Medium Small

Regular price

$37.00

Bird Feeder, Cherry Combo Seed & Suet Bird Feeder

Regular price

$49.00

Log Bird Feeder, The Original Natural Log Seed Feeder, Small Cherry Bird Feeder

Regular price

$32.00

Turned Cherry Bowl

Regular price

$145.00

Garlic Crusher, Garlic Masher, White Oak Muddler, Unique Kitchen Tool

Regular price

$25.00
---